Geraldine Tickey


Personal stats
Name
Geraldine Tickey
Kanji
ジェラルディーン・ティッキー
Age
21
Gender
Female
Height
166 cm
Weight
52 kg
Blood Type
AB
Professional stats
Status
Active
First appearance
Chapter 26
Geraldine Tickey
is an assistant of
Nazna Gemini
.
B-side NAKED MONKEYS 16.
Edit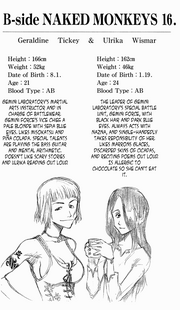 Geraldine is an instructor for the Gemini Laboratory martial arts program as well as being in charge of managing the petty officers. She is the adjutant of "Gemini Force". Her hair color is a pale blond and her eyes are blue with a light sepia tint. Her favorite food is miso cutlet and her favorite cocktail is a Pina Colada. Her special abilities are playing the bass guitar and mental arithmetic. Things that she doesn't like include ghost stories and listening to Ulrika's poetry.
Ad blocker interference detected!
Wikia is a free-to-use site that makes money from advertising. We have a modified experience for viewers using ad blockers

Wikia is not accessible if you've made further modifications. Remove the custom ad blocker rule(s) and the page will load as expected.