Luka-Lughca is an acrobat from Balmunk's circus.
B-side NAKED MONKEYS 13.
Edit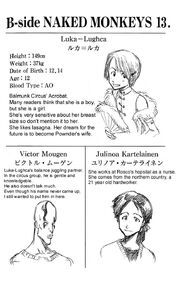 Height: 149 cm
Weight: 37 kg
Date of Birth: 14 December
Age: 12
Blood Type: AO
An acrobat from the Balmunk circus troupe. A lot of readers think that she's a boy, but she's actually a girl. Don't tell her that her breasts are small because she's really sesitive about that. Her favorite food is lasagna. Her dream for the future is to become Pownder's wife.
Ad blocker interference detected!
Wikia is a free-to-use site that makes money from advertising. We have a modified experience for viewers using ad blockers

Wikia is not accessible if you've made further modifications. Remove the custom ad blocker rule(s) and the page will load as expected.