Sheryl Shepherd

Sheryl Ann Shepherd
Personal stats

Name

Sheryl Shepherd

Kanji

シエリル・アン・シエパ一ド

Age

20

Gender

Female

Height

160,3 cm

Weight

43 kg

Blood Type

O

Professional stats

Occupation

Workless due to sickness

Status

Dead

First Appearance
Chapter 1
Sheryl Shepherd was Elwood's sister. She suffered from a heart disease and was treated by Elwood.
After her family bussiness went down, Elwood started working for Kinqro, in order to get more money for his sisters heart medicine. She had no idea of all this.
Blue Note arc
Edit
One day, Kinqro broke into their house and "accidently" told Sheryl that Elwood was working for them all along. When Kinqro grabbed Elwood and tortured him, Sheryl smashed a flowervase on his head. She ran to Elwood and begged him to run. She told him that he must have a good reason to be affiltated with them. But then one of Kinqro's henchmen shot her in the back. After her death, Elwood snaped.
When the incident was settled by Gamma Akutabi, Elwood was standing by her grave. There, he told her that he would bring her back to life, that he would search for the Zombie Powder.
B-side NAKED MONKEYS 4.
Edit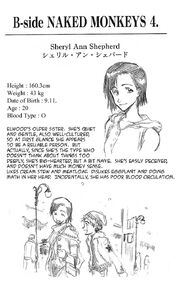 Height: 106,3 cm
Weight: 43 kg
Date of Birth: September 11
Age: 20
Blood Type: O
Elwood's older sister. On the surface she appears to have it together because she's calm, gentle, and educated... but actually she doesn't think too deeply about things and doesn't dwell on small details. She's gullible and she isn't very good with financiel matters. Her favorite foods are cream stew and meatloaf. Her dislikes include eggplant and mental arithmetic. She's also sensitive to cold weather.